The Cotton Supply Chain
Full traceability, from fiber to finished garment, is what we're after.
The Raw Fiber
WE WORK WITH BERGMAN RIVERA, A FAMILY OWNED COMPANY, FOR ALL OF OUR KNIT PRODUCTS. THE JOURNEY STARTS IN THE COTTON FIELDS FROM 3 REGIONS IN PERU. THESE FIELDS GROW EXCLUSIVELY 100% CERTIFIED ORGANIC CROPS. THE ENTIRE PROCESS, FROM FIBER TO FINISHED GARMENT, IS GOTS CERTIFIED ORGANIC. THIS MEANS THAT THEY NOT ONLY MEET THE TESTING REQUIREMENTS FOR ORGANIC, BUT THEY MEET THE SOCIAL THRESHOLD, PAYING FARMERS A FAIR WAGE AND SUPPORTING THEM IN THEIR MISSION TO GO ORGANIC. THE COTTON IS HAND PICKED, CREATING A CLEANER, MORE ENVIRONMENTALLY FRIENDLY HARVEST THEN THE MACHINE HARVESTS WE'RE USED TO SEEING. ONCE PICKED, THE COTTON IS BALED, WEIGHED, AND SENT TO THE GINNING MILL.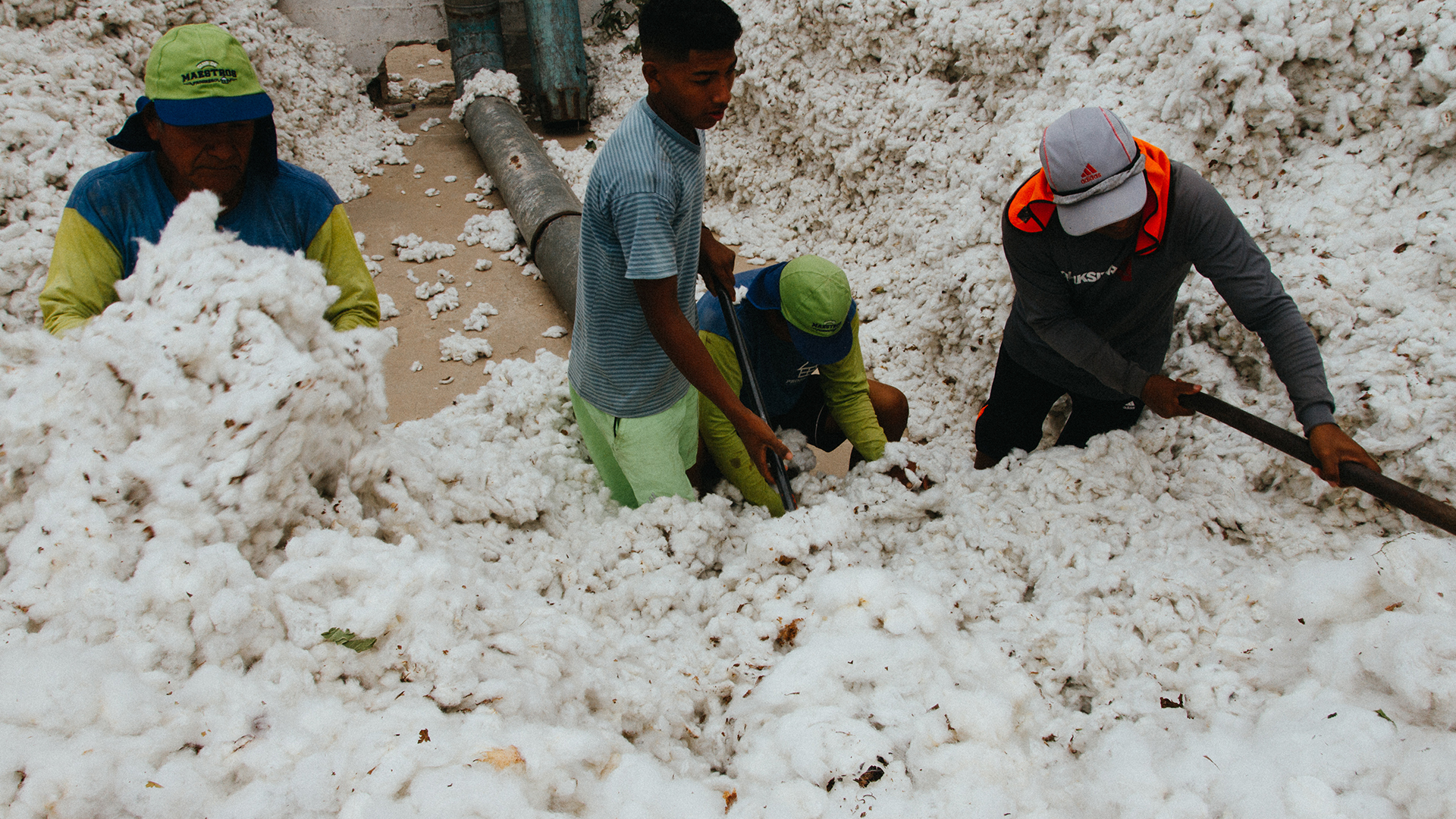 REMOVING THE SEEDS
THE GINNING PROCESS STARTS WITH THE RAW MATERIAL FROM THE FIELDS. WHEN THE MACHINES ARE RUNNING, WORKERS PUSH THE COTTON INTO A VENT THAT CARRIES IT INTO THE FACILITY. ONCE IN THE FACILITY, THE COTTON RUNS THROUGH GINNING MACHINES THAT REMOVE THE SEEDS. ONCE REMOVED, THE COTTON IS PRESSED INTO NEW BALES, WEIGHED, AND MARKED WITH THE BUYERS ID. THE COTTON SEEDS ARE PACKAGED AND GIVEN TO FARMERS OR SOLD TO PROCESSORS MAKING COTTON OIL.
FIBER TO YARN TO FABRIC
THE SPINNING AND KNITTING PROCESS STARTS BY TURNING THE COMPRESSED BALES OF COTTON FIBERS INTO YARN AND THEN THAT YARN INTO FABRIC. THIS IS DONE THROUGH A NUMBER OF STEPS THAT STRAIGHTEN, TWIST AND KNIT THE FIBERS.
THE FINAL ASSEMBLY
WE ONLY WORK WITH CERTIFIED FAIR TRADE FACTORIES IN OUR MANUFACTURING PROCESS. FABRIC ROLLS ARE CUT ACCORDING TO OUR PATTERNS, OUR GARMENTS ARE SEWN TOGETHER, PACKED, AND SHIPPED TO BOSTON.